Tumi Music's latest album 'Bana Congo' (TUMI107) by Papa Noel, one of the greats of Congolese music, and Papi Oviedo, the legendary Cuban master of the trés is set for general release on the 8th April 2002. This unique recording is the first in a new series of releases termed 'Crossing-Borders'. These recordings will feature traditional musicians in unusual and provocative combinations, generating an entirely fresh perspective in the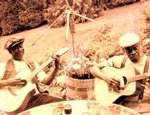 world music milieu.

"Put together the legendary Congolese guitarist Papa Noel and the great Cuban trés player Papi Oviedo and what do you get? The answer is a remarkable personal chemistry and a telepathic musical communication. The result is an album of irresistible Afro-Cuban rhythms that both men regard as a spiritual homecoming, rich in tradition, bold in execution and a sheer delight to the ear." (Nigel Williamson, The Times)

Such chemistry is the force that fuses not just this recording but the motive underlying the Crossing Borders series, bringing together collaborations which challenge and extend traditional boundaries. With 'Bana Congo' the outstanding acoustic talents of these two renowned musicians is augmented by a full band line-up, with an enthralling blend of tight horns, fabulous singing, vibrant African choruses, and an entrancing interplay between the percussion driven rhythm section and the acoustic guitars. Recorded in Havana, Paris and the U.K. this exhilarating recording will be brought to life this summer when the full band performs across Europe, headlining at such prestigious festivals as WOMAD and SFINKS.