He's been described as 'Cuba's best kept secret' and 'overwhelming' on stage to the extent that it's been said that he has left Eddie Palmieri and Tito Puente along with the New York Jazz fraternity 'speechless' after his performances. Influenced by Jazz luminaries such as Stan Getz, Ella Fitzgerald, Bobby McFerrin and Sarah Vaughan as well as Beny Moré and Enrico

Carusso, Cuban Jazz guru, multi-instrumentalist and scat master Bobby Carcassés takes you on an eclectic musical journey passing through India, Havana, New York and the mother of all.....Africa.
Jazz Timbero is an apt description of not only this album but of all of Bobby Carcassés's work. Whereas in the past he has been popularly known as the perfect "showman" and entertainer, Bobby is now considered the ultimate guru of Afro Cuban jazz, offering inspiration to the up and coming generation of new Cuban jazz musicians as many of the best new talents have started their careers playing with Bobby's orquestra.
He was born on August 29th 1938 in Kingston Jamaica , where his Cuban grandfather worked as a diplomat. Upon moving to Villa Clara in Cuba at the age of four, Bobby grew up surrounded by Cuban rhythms, listening to Beny Moré, Conjunto Casino and Roberto Faz. He also acquired a love for an eclectic spectrum of music from the opera star Enrico Carusso and Mexico's enigmatic Jorge Negrete to the Jazz supremos Sarah Vaghan, Buddy Rich and

Stan Getz among others. By the 1950s he was involved with some of the best vocal quartets in Cuba and whilst playing for many years at the Tropicana, the very centre of Cuban jazz at the time, he began to experiment with bebop and scat vocals. In the '60s he travelled to Europe, spending a year in Paris where he played with the legendary Kenny Clarke and Bud Powell, amongst others.
Upon returning to Cuba he worked in the Teatro Musical where he met three of the future founders of legendary Irakere: Chucho Valdés, Carlos Emilio Morales and Paquito D'Rivera. Over the next 10 years he played in the best night clubs in Havana as well as acting in Cuban cinema, TV and essentially starting to form his own jazz group.
In 1980 he organised the first Jazz Plaza Festival in Havana, involving the great stars of Jazz such as Dizzie Gillespie, Ronnie Scott, Charlie Haden, Airto Moreira, Tania María, Steve Coleman and many others. Years after year his own group were the focal point in these festivals. He travelled to Canada, England, France and the USA where he performed with Tito Puente, Eddie Palmieri, Patato Váldes and many other greats from the Latin Jazz scene.
Jazz Timbero is both a projection of Bobby's musical personality and a complex historical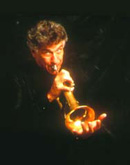 record of the different elements of Cuban music, combined along the way with jazz, blues and world music. The power of Bobby's dynamic personality shows in his versatility. Beginning as a rumbero he had to master the three elements of guaguanco: song; dance and percussion, whilst his involvement in jazz taught him to play countless instruments - piano, bass, fliscorno or fugelhorn, as well as writing his own pieces. The result of a lifetime involvement in sport and yoga are shown in the bizarre combination of raw energy and spiritual equilibrium; his greatest sporting achievement is that of national high jump champion in 1969.